Pop Life / by Madeline
Feb 18
Made in Reno - T-shirt Poster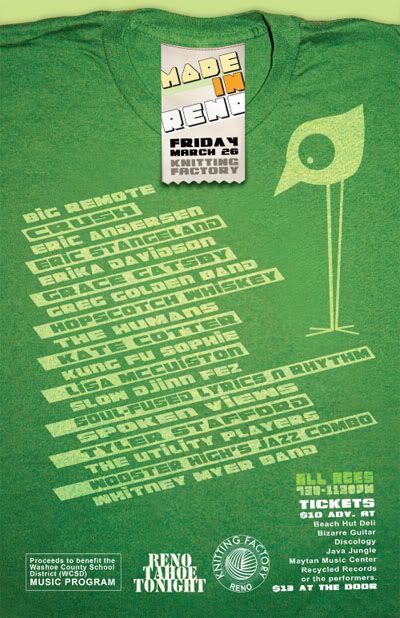 I got commisioned by Reno Tahoe Tonight and Knitting Factory to make their show poster!
Band posters are the most fun and time-consuming things to do.  They never pay what they should, but as a designer, I'm always happy to take on these projects.  To me, band posters are the epidermis of music lifestyle, they are the flowers from the fruit tree of nightlife society.  I get nostalgic when I see band posters from bands I like and respect. A band poster designer that I'm crazy about is Kii http://www.lalalandposters.com/
In the case of "Made in Reno" there was a bit of a problem to work with: No headliner nor genre meant there was no major concept to align the design too.  And, in the case of having over 17 bands, it was going to be wordy, and designers hate words.  I am no exception.  So I clung to the title and thought about "made in" and BING an image of a green t-shirt popped into my head.
Game over.  I owned you design.
Feb 17
Logo style: palindrome
I made this logo for a comp design for fix it!  I wanted to utilize the exclamation point in a way that expressed enthusiasm in the way the companies profile illustrated.  The original logo was in black, green was implemented to imply efficiency.
brand development
Before getting laid off and rehired at RGJ. I created this rather simple design for RGJ media brand development.  This simple design communicates an idea while incorporating RGJ's familiar font all in one neat little "glom"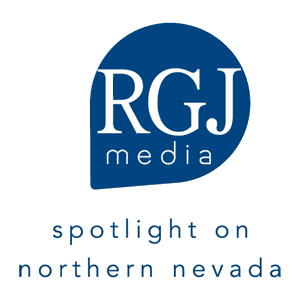 If Only….
If only I got to spend time building ads like these for companies that used all recycled materials or had all electric vehicles.  If Only….
Here's the completed ad for Ford, scroll down for the details on this design:
Truck Month - Feb. 17, 2010

Quickie design for Ford Dealer for their annual - TRUCK MONTH.
I made up a design based on the request "Truck Month" "Rocks" and "Industrial." I'm pretty sure those were the words out of our ad reps mouth.  I dug around on the stock site and found this picture of a pile of rocks.  Wow, I bet that's Vegas, omg… I loath that place…

Here's the original background image I worked with… lol don't you just want to live by a pile like that?
Feb 15
Star Trek Design: Collectibles
When I worked at Creation Entertainment, a convention/merchandise co. that held the licenses for many Scifi / Fantasy franchises, I had the opportunity to design for Star Trek.  I created the plate sets for the 40th Anniversary Star Trek Las Vegas Convention: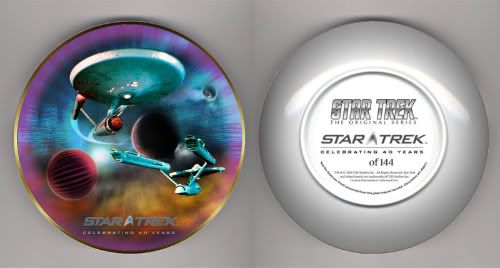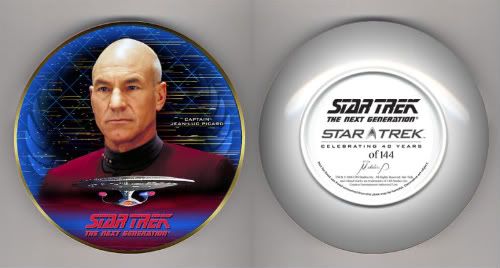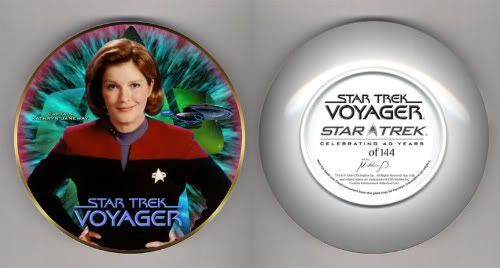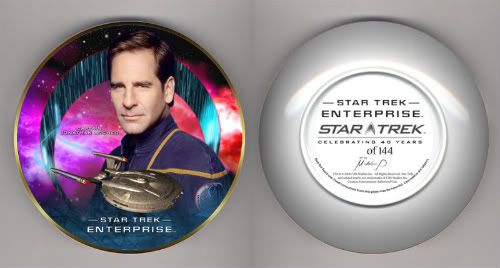 Auto Advertising Design - January, 2010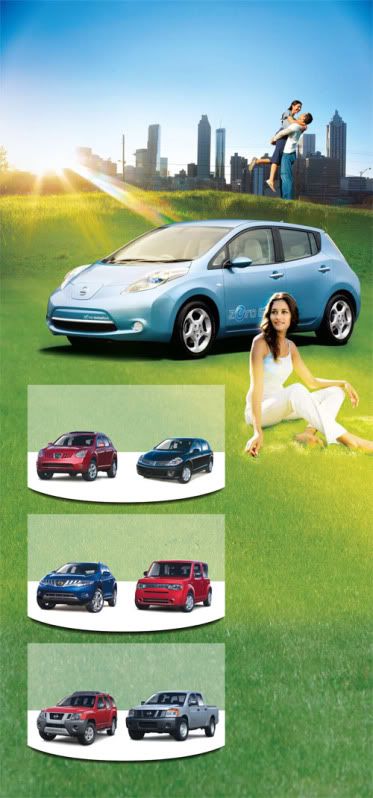 A photoshopped arrangement of grass, a hill, a girl, some lovers and a nissan leaf.
This concept changed a lot by the time it was printed in the paper, so I'd like to show the comp because it captured an idea: Young people will change the world with their buying power.  This comp took me about 4 hours to produce and since it was for Gannett, I had access to www.thinkstockphotos.com for a slew of different images to pull from.  I love it when designers really invest the time, even for a local auto dealer to create a strong image.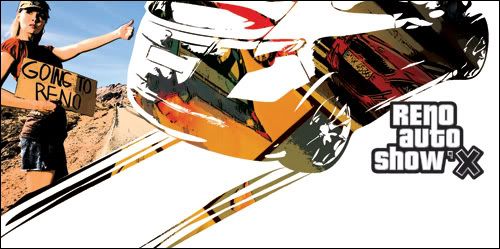 Pulling from the brilliant colors of comics, I converted pictures to contrast-heavy images.
The logo design was inspired by Grand Theft Auto.  I'm so happy the auto organization loved it.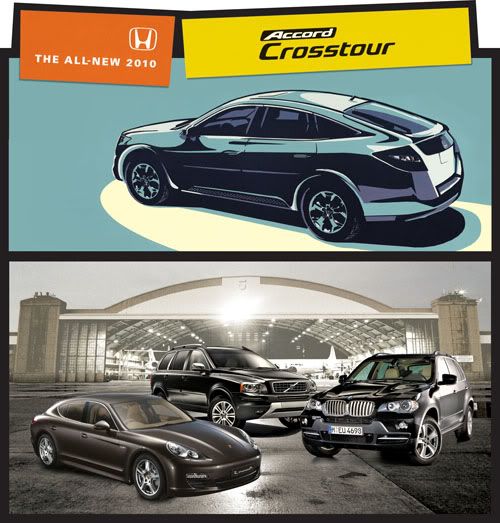 A half-page newspaper ad I created for a dealer who sold everything from hondas to porsches.
The top portion mocked directly after honda sales collateral, where as the hangar image on the bottom with the porsche, bmw and volvo I created from scratch.  Since the dealer has 2 totally different markets, I split the ad vertically.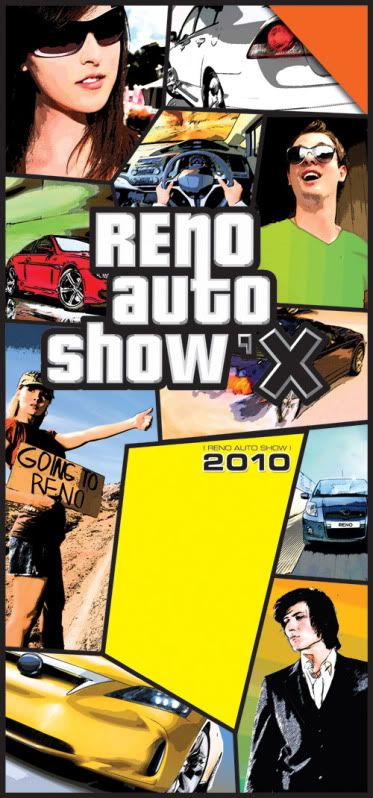 Yeah, go ahead take a look at Grand Theft Auto.  I'm almost ashamed… BUT then again, I am happy that I really enjoyed the initial concept.
Feb 14
Will Work for…
It was the middle of winter and I wasn't about to run around the "lagoon", so I went to the gym.  I'm slightly addicted to the post-treadmill floaty feeling. Side effects of running in place.  After my workout, I spoke with the marketing / membership sales person who was open to a mutual exchange of design-work for gym membership. Now if only my mortgage company would take something other than cash!
Lately I've had a few website projects come together and I'd like to share them with you!

West St. Wine Bar More than 50 wines by the glass in downtown Reno.
The idea in West Street Wine Bar's page was lots of awesome big pictures that captured the urban-revival feel of Rick Martinez's wine bar.  I came in a couple of times and photo'd the bar on a nice summer evening with lots of bar traffic.  Then, I came in again and captured classic images of wine paraphernalia.
The wine bar site is simple but it gets the point across immediately.  The idea is to get people to want to come visit the wine bar and see it for themselves.  Since the release of the site, we've seen a lot more newcomers, particularly those who are looking for hotspot from out of town.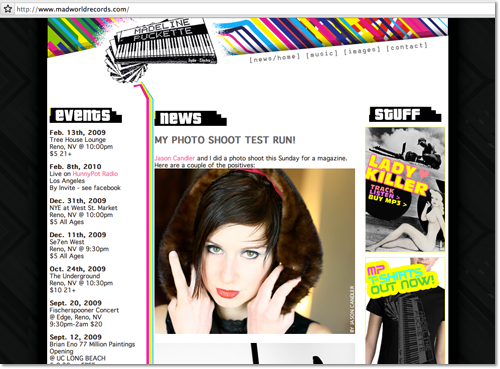 www.madworldrecords.com Music Producer & Singer's portal website
For my own website, I'd been trying to put everything about myself in one place.  I'm a graphic designer, sommelier, music producer and singer.  As a "jill of all trades" I have learned that my specializations elevate each other, but when put together on a webpage it confuses the users.  Madworld Records, my music page needed to be isolated and most of all, users need to be able to find my music immediately upon entering.  After all, the music is the important part.
I built a page with a central column which will be updated with major news.  I was inspired by the way www.xlr8r.com works but on a much smaller scale. The design was created to reflect the "bright" qualities of the sound.  The black/monotone background represents the bass and structure of the music where as the bright stripes represent the melodies and synthesized nature of the music.
Next up in design will be for the athletic club and for DJ Pulser and I, a musical duo shooting for the stars… whee!
Feb 13
Blank Slate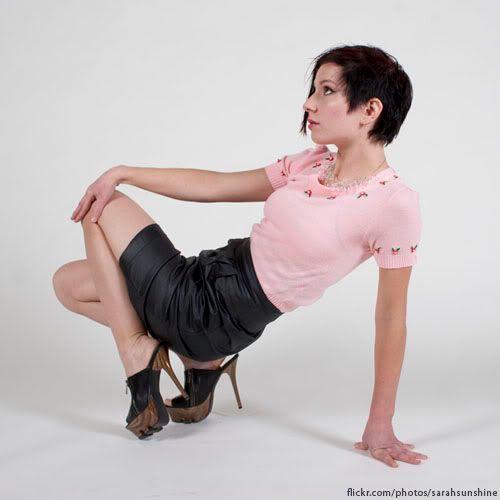 The spring cleaning photoshoot got cancelled, but I still had a photographer ready to go!  Sarah's got talent and the shoot went great.
What happens next?  This whole photoshoot is for a website I'm building for music producer, Pulser, for a music collaboration we've been working on.  Having learned to properly develop a site using divs (say goodbye tables…) I'm really inspired by the clean simple to navigate site by Been Meaning To Tell You:
Since Pulser is not anywhere close to me, (10 hours difference means midnight skype's are quotidian) an empty back drop of standard white studio lighting is going to be the most natural thing to combine.  Unfortunately, a white studio is the most unnatural place to be photoed.  I'm lucky Sarah put me at ease, the best shots were the ones where I'm in between poses. Yes yes, I crawl better than walk…
I can't wait till his photos pour in.